Combined rope "Neptune"
In stock
Country of manufacture:
Russia
The basic color of the rope is green.
At the request of the consumer, the color can be combined or changed to any other.
Manufactured in accordance with TU 8121 - 001 - 49718938 - 2002.
Combined ropes are made from steel wires with vegetable or synthetic strands and cables. The use of such ropes gives a number of advantages over steel ropes: wear resistance increases while maintaining the flexibility of the rope, and the effect of dynamic loads on the rope decreases.
Combined ropes are most widespread in industrial fishing, they are used in the construction of trawls, fixed seines, in the edges of overhanging seines, etc.
Features:
Combined ropes Neptune are a construction using both synthetic fibers and steel wire. The rope is formed by twisting using the cable lay technology, six strands of the rope are wound around a polypropylene core. The rope is similar in structure to the Albatross, but has a larger number of synthetic heels in the outer layer of the strands.
An equally strong combined rope is several times thicker than a steel rope, but thinner than a vegetable rope, while the weight of a kimbin rope is less than the weight of a vegetable rope and is approximately equal to the weight of a steel rope.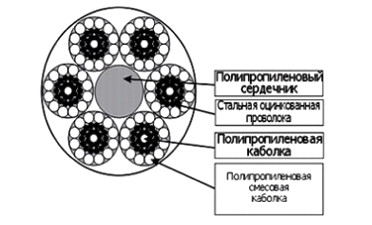 Symbol
Diameter, mm
Bay length, m
Weight 1000 m, kg
Breaking force,
kgf not less
Polypropylene
Policy
NO - PLCt - 22
22
500 - 2000
560
6500
9000
NT - PLCt - 22
22
500 - 2000
630
7000
9700
NO - PLCt - 28
28
500 - 1500
920
11000
16000
NO - PLCt - 30
thirty
500 - 1500
1120
14700
18500
The rope designation indicates:
rope type - A (Albatross), T (Typhoon), G (Hercules), N (Neptune);
rope type - O (normal), G (flexible), L (lightweight), T (heavy), TG (weighted and flexible), Gs (with a flexible core);
rope diameter
For example: AO - 27 rope "Albatross" usual diameter 27mm; GG - 19 rope "Hercules" flexible with a diameter of 19mm.
Country of manufacture:
Russia
Information is up-to-date: 11.05.2021
Read more
Unbelievable price on Combined rope "Neptune" in Orel (Russia) company Samson, OOO.